Day 01: Arrival / Delhi
Meeting and assistance upon arrival as our representatives welcome you and escort you to your car.
Whilst the room keys and check-in is organized, our representative would introduce the tour to you and hand over the documents to you.
Welcome to India, or as we say 'atithi devo bhava' (the guest is an incarnation of God). Thank you for giving us the opportunity to serve you!
Overnight at HotelDay 02: Delhi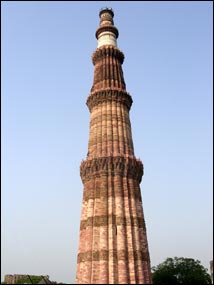 Morning, we proceed on a guided tour of New Delhi, Visiting such sights as Bahai Temple, Humayun's Tomb (1586), the Qutab Minar 72 meters high and one of the most perfect towers in the Persian world. The Iron Pillar which has survived the vagaries of weather for over 1500 years. Continue with a drive through Embassy area, the Government buildings (1921-1930) and Connaught Place, the heart and main shopping district of the capital.
Later we cross the city and into the walled gates of the Old city with visits to the Jamma Mosque (1650) and drive through the fabled area of Chandni Chowk (aptly translates to Moonlight Square) where the throngs of shoppers and vendors meet in the oldest area of Delhi. Visit the Red Fort (1639-1648 built by Shah Jehan the builder of the Taj Mahal in Agra) to view the inlaid and carved Royal Chambers, on to Raj Ghat and nearby ghats where the founder of the nation, Mahatma Gandhi and thereafter Indira Gandhi and Rajiv Gandhi were cremated.
Overnight at HotelDay 03: Delhi / Agra (205 Kms)
After a leisurely breakfast, we will drive to Agra along one of the India's finest. We will have opportunities to stop on the way at well-appointed restaurants for refreshments as well as restroom services.
Upon arrival check into Hotel
Afternoon we ride to the massive Agra Fort. The elegant buildings inside reflect an interesting synthesis of Hindu and Central Asian architectural styles. Built by Emperor Akbar, the maze of the courtyards, mosques & private chambers of the fort echo the story of the Mughal Empire. The Moti Masjid & other magnificent buildings reflect the skill of the ancient Indian architects.
Agra is the city of the Taj Mahal, perhaps the most photographed monument in the world. However, there is a degree of enigma about the Taj. Once you hear about a building so much and once you see so many pictures of a building your expectations are real high; and this is the enigma about the Taj Mahal. No matter how many pictures you have seen or no matter how high your expectations are the Taj never lets you down - the unparalleled glory and beauty of the building surpasses beyond all human imaginations. At sun set we visit the Taj Mahal to witness this spectacular monument built for love. Besides perfect symmetry in every aspect of its construction, the inlay work of semi precious stones into marble in pietra dura style is absolutely remarkable.
Overnight at HotelDay 04: Agra / Fatehpur Sikri / Ranthambore (270 Kms)
Early this morning with packed breakfast we drive to Ranthambore stopping at deserted Capital City of Fatehpur Sikri. This abandoned capital of the Mughals is a perfectly preserved city at the height of the empire's splendour. The city divided into religious and secular parts has interesting well-sculpted buildings. From here we will continue our drive to Ranthambore.
Upon arrival check into your hotel
Afternoon Jungle Safari in open top vehicle
Overnight at hotelDay 05: Ranthambhore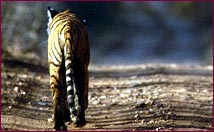 Morning & afternoon jungle excursions in open top vehicle. Ranthambhore is known to have India's Friendliest tigers Assured of protection; these nocturnal creatures are seen often in the day. Sprawled on the Aravalli and Vindhya ranges of Rajasthan, Ranthambhore National Park encompasses an area of 410 Sq. km. in which lives a healthy population of about 40 tigers. A large number of deer inhabit the area and leopards are occasionally sighted. The Pandam Taloa lake, located adjacent to the Jogi Mahal hunting lodge, is the park's favorite water source. Smaller pools at Raj Bagh and Milak also attract a variety of wild life The best way to explore Ranthambore is in open top vans as the park is well connected by arterial roads and tracks. Some of the popular sighting areas are Nal Ghati, Lahpur, Bakuala, Anantpur and the Kachida valley Mammals: Tiger, Panther, Hyena, Jackal, Jungle Cat, Caracal, Sloth Bear, Sambar, Chital, Nilgai, Wild Boar, Chinkara, Indian hare mongoose. Birds: Bonelli's eagle, crested serpent eagle, great Indian horned owl, grey partridge sandgrouse, quail, spurfowl, common peafowl, tree pie, paradise flycatcher, pheasant tailed jacana, painted stork, black stork, spoonbill, green pigeon, ducks.
Overnight at HotelDay 06: Ranthambhore / Jaipur (170 Kms)
Morning jungle excursion in open top vehicle
Following a leisurely breakfast we will drive to Jaipur
Upon arrival check in to hotel
After rest & relaxation, we explore the unending shopping options of Jaipur along with our Guide. An essential starting point for Rajasthan craftwork is block making and block printing and we will be exploring the process from start to finish in some of the popular stores here. The opportunity also exists here to tailor make outfits to your design and size.
We also explore one of the chief attractions of Jaipur - its jewelry, which offers a variety that ranges from chunky tribal jewelry to enameled gold to modern diamond jewelry. Kundan (art of stone setting) and enamel jewelry has been a specialty of Rajasthan, particularly that of Jaipur. The stones are embossed into decorative shapes & patterns and embellished with delicate enamel ornamentation in the champeve (raised field) technique. Jaipur is well known for its gold and silver enameling. Colorful bangles made of lac and set with semiprecious stones make an inexpensive buy. The craftsmen take great pains to embed the hundreds of stones into the lac. The skilled gem-cutters of Jaipur carve enchanting little animals and birds from rock, crystal, jade, smoky topaz and amethyst. Intaglio beads & buttons and crystal scent bottles are also available.
Overnight at Hotel Day 07: Jaipur
Morning we visit Amber Fort, the former capital of the royal Jaipurs. Few fail to be moved by the dramatic Rajput grandeur of this hilltop fortress-palace 11 km north of Jaipur. Set on the dry wrinkled Aravali Hills, and surrounded by fortified battlements, the palace straddles two sepia-hued tundra hills overlooking Maota Lake, and its sprawling crenellated walls lattice the surrounding hills.
We will ride up to this hilltop palace on a caparisoned, painted elephant, passing through the ancient main gate where Maharajas of Jaipur have entered for four hundred years. Our guide will elaborate on the history of this architectural masterpiece with its mirror-studded alcoves, dazzling mosaics and water-cooled swings that delight today's visitors as they did their former royal residents.
Later, we proceed on a tour Of the City Palace & Observatory. The City Palace in the heart of the old city is a blend of Rajasthani and Mughal architecture. The centre of the palace is a seven-storied building called Chandra Palace, with fine vies over the gardens and the city. The palace lies in the heart of the city and occupies the whole central grid. The fortified wall has seven gates and was built for protection from invading armies and animals that lived in jungles, which surrounded the wall that time. Next, we visit the Solar Observatory - an astronomical treasure house, with solar device that give accurate predictions till date.
Overnight at HotelDay 08: Jaipur / Delhi (270 Kms) Delhi / Departure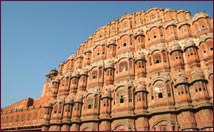 Morning is at leisure for your independent activities.
Later we will drive to Delhi along one of the India's finest freeways.
A Home Visit & a Farewell Dinner with an Indian Family: Upon arrival in Delhi, we would visit an Indian family for an Indian home experience. The evening is designed to give you a 'feel' and insight into Indian family life as well as experience typical Indian hospitality and home made Indian food.
After the dinner transfer in time to the international airport to board your flight back home
END OF SERVICES
We do hope the flavor of India will remain on your taste buds for all times to come and hopefully would kindle an indelible fondness for the country and her people; Thank you for being our guest, and as we say in India 'Please Come back Soon"