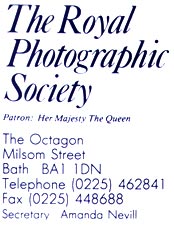 Dr. E.R. Sethna F.R.P.S., A.F.I.A.P.
32, Little Sutton Lane
Sutton Coldfield
West Midlands B75 6PB
Telephone (021) 354 8443
Mr. Tapas Banerjee
Director
TRINETRA TOURS,
New Delhi India
11th December 1992
Dear Tapas,
We wish to thank you most sincerely for your efforts in making our trip to Rajestan and Sikkim such a success. What we appreciated was the understanding by you and your associates of the needs and requirements of serious photographers, your meeting the westerner's expectations of facilities regarding accommodation, food and travel, and to provide all these at a very competitive price.
We travel a great deal to different parts of the world but we have never had such excellent service so economically provided. I would say that a photographiic trip to India, arranged through your company, could be described as one of the best places in the world for a photographer to visit.
What we have also appreciated is the establishment of friendship with you through our visits. We wish you every success and we hope that other photographers from the U.K. and other parts of the world have the good fortune to visit India, as we did, with the help of your company.
Kind Regards,
Your sincerely,

Vice president