Rishikesh is known world wide as International capital of Yoga & Meditation. This is a holy town located beautifully in the foothills of the Himalayas on the bank of River Ganges.
Rishikesh, the 'place of sages' is a celebrated spiritual town on the bank of Ganga and is surrounded by Shivalik range of the Himalayas on three sides. It is said that when Raibhya Rishi did hard penances, God appeared by the name of " Rishikesh " and this area henceforth came to be known as Rishikesh.
Rishikesh is an ideal destination not only for pilgrims but also for those who want to delve deeper into meditation, Yoga and other aspects of Hinduism. The spiritual haven of the various ashrams is on the eastern side of the Ganga , at Swargashram (on the other bank is the noisy business centre). The ashrams provide lectures and courses to suit everyone's need and quench their thirst for knowledge for fooding and lodging at a reasonable cost .
Places to visit in Rishikesh :
Rishikesh is an exciting destination that is dotted with a number of temples and ashrams. Rishikesh is surrounded by the verdant forest and river Ganges flow through the town. Rishikesh has a number of tourist places that one can visit. Since Rishikesh is known as a pilgrimage center, religious places form a major chunk of tourist attractions in Rishikesh.
Triveni Ghat is a popular place in Rishikesh. Many people take a dip at the ghat before visiting temples in Rishikesh. Lakshman Jhula is an important landmark in Rishikesh. Lakshman Jhula is basically a hanging bridge on the Ganges and the most popular spot in Rishikesh. Legend has it that Lakshman, the younger brother of lord Rama crossed the river using a hanging bridge made of jute. Ram Jhula is another famous place in Rishikesh where you can visit.
The Aarti on the banks of the Ganges is what you should not miss on your tour to Rishikesh. The floating diyas (earthen lamps) present a wonderful view in the evening. The hymns and sound of bells creates a symphony of sorts during Aarti.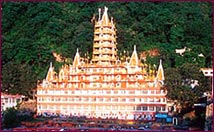 Rishikesh is the gateway to Chardhams of Uttaranchal. You can take a tour of the Chardham of Uttaranchal from Rishikesh. Rajaji National Park at Chila is another place that you can visit from Rishikesh.
Things to do
Adventure sports are what you can enjoy in Rishikesh. Rishikesh is popular for rock climbing, river rafting and trekking. There are a number of popular spots around Rishikesh, where you can enjoy these sports. Shivpuri is an excellent point from where you can raft down on the river Ganges.
For those who are interested in yoga and meditation, Rishikesh is the best place to take some lessons on these two ancient Indian disciplines. As there are a number of ashrams and yoga centers that provides lessons on yoga and meditation in Rishikesh.
Getting there and accommodation
Rishikesh is well connected with other parts of the country by rail and road transport. Rishikesh is about 230 kilometres from Delhi. Jolly Grant at Dehradun is the nearest airport and Haridwar is the nearest railhead.
Rishikesh has a number of hotels and tourist lodges that are well equipped with all the modern facilities. The hotels in Rishikesh vary from excellent hotels to budget and economy hotels.