Situated at the height of about 3,505 meters above sea level, Leh is the most beautiful and easily accessible place in Leh Ladakh India. Leh is the most common entry point to Ladakh region. Leh serves as the ideal base to tourists traveling Leh Ladakh India. Leh has a number of beautiful monasteries and historical monuments that are the biggest draw to Leh. The rugged terrain with snow covered mountains in the backdrop under the clean blue-sky form a stunning picture perfect postcard. Leh is an ideal place for trekking and mountaineering. Its beautiful trekking trails and majestic mountains invite an intrepid traveler to explore the barren beauty that lay scattered in and around Leh.
Leh's claim to fame dates back to the 17th century, when King Sengge Namgyal shifted his court to Leh from Shey. Soon after, Leh became an important trade center on the famed Silk Route. Tourism sets its foot in Leh in 1970s, to be precise in 1974, when Leh was opened for tourists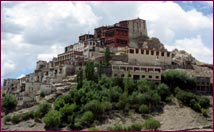 The limpidity of the atmosphere, in fact gives the night sky a unique clarity, so full and bright with stars that one feels transported to some etheral setting far removed from earth. For endless years, mad had even discovered this remote land,several hardy animals and birds lived together here in an exquisite equilibrium. Circumstances have now changed as they have almost everywhere else on the subcontinent. Today,Ladakh's flora and fauna are threatened and protection is vital if the ancient ecosystems are to survive the trauma of modern man. Through the fabric of this account runs a strong statement,that the armed forces possible contribution to conservation remains untapped. Harnessing this vital potential force may be the single most important conservation advance India could make in the battle to save what remains of its natural wealth.
Sites To Visit
Shanti Stupa, the result of joint efforts by the Buddhists from Japan and Ladakh is one of the finest monuments built in the recent times. A steep walk takes one to the beautiful structure that has relics of the Buddha enshrined by the Dalai Lama himself. Shanti Stupa is one of the few places in Leh from where you can have an excellent view of the Leh valley. So don't forget to take your cameras to capture some stunning sights of the barren but beautiful hills and the valley below.
Leh Palace, a distant cousin of the Potala in Lhasa Tibet is another attraction in Leh. The palace, which was built in the 17th century is in a dilapidated condition today. Once home to royal family of Leh, the palace today is under Archaeological Survey of India. Just above the palace on the Namgyal hill is the Victory Tower that was built in memory of Ladakh's victory over the Balti Kashmir armies in the 16th century. Namgyal Tsemo Gompa is another beautiful monastery that houses a three-story high Buddha image and ancient manuscripts. The Gompa was built in 1430. Sankar Gompa is another magnificent gompa that is located about a few kilometers from Leh town. The gompa belongs to the Gelukpa order.
Trekking in Leh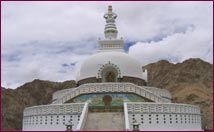 If you are the one interested in adventure sports, Leh is an ideal place to tour. Leh is one among the few trekking places in north India that offers wonderful trekking trails. You can hit the route to Markha Valley from Spituk or take the Lamayuru gompa to Chilling trek along the Zanskar river. The another popular trek that can be taken is from Likir to Temisgam. June to October is considered to be the ideal time for trekking in Leh Ladakh. But it is essential to acclimatize before you take out your trekking gear.
Other Sports
During summer, Polo is another popular sport in Leh. Tuesdays and Saturdays are marked as Polo playing days. But if you are in Leh Ladakh during the Ladakh Festival, you can enjoy other sports as well. Archery competitions are held during the festival and it is exciting to watch archers from Ladakh and other parts to participate in the event. River rafting is another exciting sport that one can enjoy. From July to September one can raft down the Zanskar River.
Shopping in Leh
Shopping is an exciting experience in Leh. You can shop for turquoise and silver jewellery that come from Tibet and Burma. Main Market in Leh is a wonderful place to shop. Two of the places that are worth checking are Ladakh Art Palace and Lhasa Embroidery. Tibetan Refugee Market on Old Leh Road is another ideal place for shopping in Leh. For Tibetan-Ladakhi items of art one can head to Government Emporium. Popular souvenirs picked up by tourists include, Thangka paintings, small prayer wheels, music bowls, Ladakhi carpets, rugs, shawls and stoles.