Located on a hillock, beside the
River Tawi
, Jammu is popularly known as the
crown of India
. As a melting pot for various cultures, Jammu and Kashmir is also a hot tourist's attraction for Indians and Foreigners alike. People visit this Heaven on Earth as
Pilgrim tour
, Archeological Excursion and also Nature Lover. A happy
combination
of
crystalline lakes
,
bold mountains
and
meandering valleys
, Jammu is also a home to
various temples and Mosques
that are held in high esteem by the archeologists and pilgrims alike. Foreign invasion and their historical remnants are indicative of the rich cultural influences that Jammu and Kashmir had been subject to. The main places of tourist attraction in Jammu and Kashmir are divided into the following; Religious Places, Historical Places and Monuments, Places Blessed with Scenic Beauty.
Places to visit :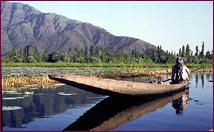 The tourist attractions of Kashmir consist of some of the finest places in and around the valley. It is one of the most charming and scenic places in India. Sightseeing in Kashmir is mainly about appreciating the beauty of the nature. Glittering glaciers, snow covered mountains and picturesque hill stations all add to the tourist appeal of
Kashmir
. As you take a trip to the Kashmir valley you will get to know various untouched facets of the wonderful "
Paradise on Earth
". Have a look at some of the popular tourist spots in the Kashmir valley.
Gulmarg
A beautiful hill resort of Kashmir, Gulmarg dates back to the 16th century. Apart from its scenic beauty, Gulmarg is known for housing the highest golf course in the world.


Pahalgam
Pahalgam hill station is one of the few tourist places that have remained unspoilt by the ravages of progress. The trekking routes near Pahalgam are quite famous.


Sonamarg
This "Golden Meadow" mesmerizes visitors with its picturesque beauty. The sunrays falling on the snow caped mountains reflect a golden sparkle, giving the hill station its name.


Patnitop
The hill resort at Patnitop offers numerous attractions to its tourists. Opportunities for long peaceful walks, lovely picnics, snow games, golf, etc all lure visitors to this charming place.


Drass
One of the places to see in Kashmir is Drass, the second coldest inhabited place in the world. Drass is quite famous for the excellent trekking options it offers.


Kargil
Situated in the center of the Himalayan region, Kargil serves as the perfect destination for adventure activities. Apart from that, it is also renowned for some of the finest examples of architectural excellence, situated nearby.