About Bandhavgarh National Park
The density of tiger population is among the highest in India here at Bandhavgarh . The tiger once roamed freely here but due to extensive hunting ( Maharaja Venkat Raman Singh shot 111 tiger by 1914 ) , their population came down drastically . The Bandhavgarh National Park is the place where the famous white tigers of Rewa were discovered . The forest of Bandhavgarh National Park sits in a bowl encircled by cliffs and wooded Vindhyan mountains, and its plains have a number of grass and reed covered wetlands where Kingfishers dive and Egrets sit poised, hunch-backed, in the shallows. Up above, vultures nestle in holes in the sheer cliffs.
The Bandhavgarh jungle, when it is large enough, becomes a living self-sustaining organism providing its own climate, atmosphere, water and nutrition through its recycling systems. It even has a sleep wake cycle. As more light fills the sky, Bandhavgarh begins to awaken.
Flora In Bandhavgarh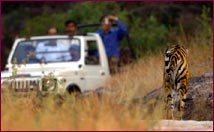 Initially just 105.40-sq-kms in area, Bandhavgarh with 25 resident tigers, was noted for its high-density tiger population. Today, it has been extended to an area of 437-sq-kms. About half the Bandhavgarh park is covered with fine trees of Sal, while mixed forests are found in the higher reaches of the hills. Stretches of bamboo and grasslands extend to the north. The main wildlife viewing is still done in the core of the park with its 32 picturesque, wooded hills.
Major Wildlife Attractions - Bandhavgarh
Once a hunting reserve of the royal family of Rewa in more recent times, Bandhavgarh was declared a park in 1968. This is also the site where the famous
White Tigers of Rewa
were discovered. The last known capture of the
White Tiger
was in1951 . he is believed to have fathered many a cub in Indian zoos and outside.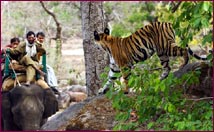 Wandering through the Bandhavgarh national park on an Elephant Back, the chances of seeing a tiger are quite good. Among the other wild attractions include,
Nilgai, Chausingha, Chital, Chinkara, Wild Boar
and sometimes a
Fox or Jackal
.
Other Attractions In BandhavgarhKalchuri Archeological Remains
: Beside the wildlife, Bandhavgarh is also famous for the archaeological remains of the Kalchuri period that have been found here.
Bandhavgarh Fort
: The Bandhavgarhpark area is hilly and is dominated by the majestic Bandhavgarh fort, built in 14th century. The fort and the adjacent hills have a large number of caves belonging to the pre-historic period.
Jeep& Elephant Safari
: One can enjoy viewing the wildlife by two ways in Bandhavgarh - Jeep Safari and Elephant Safari.. Jeep safaris are undertaken during the early morning hours till evening. A forest department guide is always their with the visitors on these jeep trips taken inside the park. Elephant safari trips are organised for tiger tracking early in the morning.